Day 2 :
Keynote Forum
Federal University of Ceara, Brazil
Time : 09:00-09:30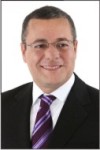 Biography:
Paulo Roberto Santos is Associate Professor at Federal University of Ceará, Brazil, and coordinates the Graduate Program in Health Sciences of the Sobral Faculty of Medicine. His main research interests are self-perceived outcomes (quality of life, depression, coping strategies and sexuality) among end-stage renal disease patients.
Abstract:
Low quality of life and high prevalence of depression are universally found among end-stage renal disease patients undergoing hemodialysis. In the past decade, technical advances of dialysis therapy have not been sufficient to improve the quality of life or decrease the prevalence of depression. Many variables associated with poor quality of life and depressive symptoms are not modifiable, like gender, age, and comorbidity. The relationship of spirituality and well-being is well documented in the literature. In the nephrology area, there are reports of better quality of life and less depression among dialysis patients with a greater perception of spirituality and religiosity. Nevertheless, more studies on spirituality are necessary among hemodialysis patients, especially because to some extent spirituality can be modified, and strategies aiming at engaging patients in discussions about their spiritual concerns can be implemented by the care team. We conducted an observational study comprising 161 end-stage renal disease patients undergoing hemodialysis in the only dialysis center in the northern Ceará state, northeast Brazil. Spirituality was assessed by the Religious Coping Activity Scales (RCOPE). Depression was screened by the 20-item version of the Center for Epidemiologic Studies Depression Scale (CES-D). Quality of life was evaluated through the Brazilian version of the Medical Outcomes Study 36-Item Short Form Health Questionnaire (SF-36). We found depression rates of 27.3%. Positive religious coping was negatively correlated with depression score (r=-0.200; p=0.012), meaning the more positive religious coping was, the lower the depression score tended to be. In addition, positive religious coping was an independent protective factor for depression (OR=0.132; CI 95%=0.021-0.910; p=0.039). Regarding quality of life, positive religious coping was able to independently predict better quality of life scores related to the following dimensions: bodily pain (b=14.401; p=0.048) and vitality (b=12.580; p=0.022). On the other hand, negative religious coping independently predicted worste score of the dimension social functioning (b=-21.158; p=0.017). Our results add further evidence that spirituality is a powerful mediator of quality of life and depression. Clinical implications for the care team are:Patients using religious resources should be encouraged, while psycho-spiritual interventions should be tried targeting religious struggle (negative religious coping) among hemodialysis patients.
Keynote Forum
Johns Hopkins University, USA
Time : 09:30-10:00

Biography:
Lois Arend is Associate Professor of Renal Pathology at Johns Hopkins University School of Medicine. Dr. Arend received a PhD in Physiology and her MD atrnMichigan State University, then completed residency and a fellowship in renal pathology at The University of Michigan. Dr. Arend has studied renal function andrndisease in areas such as the role of adenosine in normal kidney function, development of the kidney, and cystic kidney disease, and the pathology of vascular access and transplantation for 30 years, publishing over 65 peer-reviewed articles, reviews, and chapters in major textbooks such as Heptinstall's Pathology of the Kidney. She is Director of Clinical Fellowship training for the Department of Pathology at Johns Hopkins University.
Abstract:
Autosomal dominant polycystic disease (ADPKD) is a very common genetic disease, affecting up to 1 in 500 people. Many affected individuals progress to end-stage renal disease (ESRD) by the fifth to sixth decade of life. Mutations in the Pkd1 gene account for over 85% of ADPKD cases, while the Pkd2 gene is believed responsible for the remainder. Despite this wellestablishedrngenetic basis, current mouse models do not adequately explain the clinical progress or reveal underlying pathogenic mechanisms in human ADPKD. Many of these models have been used as the basis for developing therapeutic strategies that have failed to produce results in subsequent clinical trials.rnWe have used novel approaches to investigate the renal and reproductive tract abnormalities in mice, opening new avenuesrnfor understanding PKD and its associated morbidities. Infertility and reproductive tract abnormalities in male ADPKD patientsrnare very common and have higher incidence than in the general population. In mouse models we developed, we identify novelrndefects in the reproductive tract that could form the basis for some of these issues. In addition, a mouse model targeting Pkd1rngene deletion in the stromal cells of the kidney offers a more faithful reproduction of human ADPKD than currently availablernmodels. In particular, these mice are being used to investigate the hypothesis that a "third hit" occurs during childhood or earlyrnadulthood leading to faster, more vigorous, or larger cyst development and greater risk of progression to ESRD.The study of ADPKD has stagnated due to a lack of models that reproduce the human condition for understanding pathogenesis, progression, and targeting therapies. These models may provide new mechanistic understanding of ADPKD and hold promise as a foundation for new therapeutic strategies.